May Lake and Mt. Hoffman, August, 2004

During late July and earily August, we conducted our annual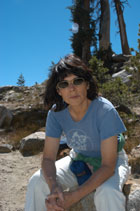 Red7 Annual Adventure, which explored May Lake in the middle of Yosemite National Park. We've visited May Lake many times, and it was chosen this year so the creampuffs in our midst could all attend.
Mt. Hoffman is nearly at the geographical center of Yosemite National Park, with beautiful view (from the summit) in all directions. You can see well into the central valley of California to the West, and you can see many of the tall peaks within the park.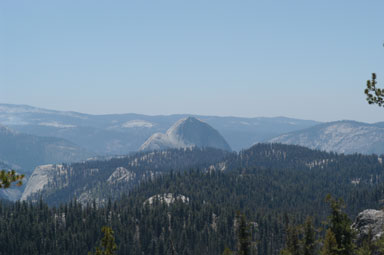 The hike from the trailhead (parking lot) to to camping area is short. We like to camp on a ridge that overlooks Tenaya Lake and Half Dome (see photo of Half Dome). Meals are purchased at the May Lake High Sierra Camp, in a dining hall atmosphere, and so we hardly have to carry any baggage at all. Those who want to hike have lots of options, and those who want to relax all day by the lake have that one option as well. It's very easy to hike around the lake itself (except for a short stretch full of large boulders that have fallen from the peaks), and almost everyone in our party did it. The weather was great on this trip - we have experienced rain before - and everyone was warm enough.
We dropped by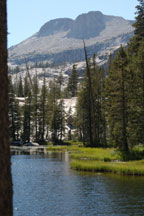 Raisin Lake early on in the trip. It's a small lake, but beautiful because it's placid and tree-lined. Plenty of places to sit and meditate. And Mt. Hoffman looms above it (see photo). Mt. Hoffman actually has several summits and high ridges and from every direction it takes on a different aspect. Raisin lake is a stopping-off-point on the main trail and is way below the elevation of May Lake. Well worth visiting, and we've also been there many times, including staying overnight on our Ten Lakes trip a few years ago.
On July 31, we made the rash decision that we wanted to climb Mt. Hoffman by moonlight. To you city-dwellers this may seem rash, since you barely see the moon at all, but in the wilderness, the moon is bright enough to illuminate everything and if you're already acquainted with terrain you can pretty safely hike anywhere. We made the decision around 4pm in the afternoon, and during dinner we found out that two of the High Sierra Camp staff were planning the same hike. So we arranged to meet up with them. Since they had to "do the dishes" we started around 30 minutes before they were available, and we hit the trail. And this was also 30 minutes before the moon cleared the mountains and started lighting up the

landscape (on flat terrain the full moon would have risen at the time of sunset, but because we're in a mountain range, it is obscured by the mountains themselves until it clears their peaks). So some time after 9 we had moonlight to hike by.
Though we had flashlights to use in the early part of the trip, once we were above the treeline we were able to hike entirely by moonlight.
Around 10:15pm the (two) camp staff caught up with us as we neared the peak. And we did the last few hundred yards as a full team of five. To give you an idea what it looked like, I have included two photos below. The one on the left is untouched and is pretty much what it really looked like (look at your screen at the right angle and you'll see that there are three people there). Dark, but enough moonlight that you can see where you're going. The photo was brightened up (using PhotoShop) and appears on the right looking more like daylight. You can see the stars in the sky and the trail of a meteor (or airplane). The photo was taken at 10:58pm, Saturday, July 31, 2004, by the light of a full moon (a blue moon at that!) at the
| | | |
| --- | --- | --- |
| | | |
summit of Mt. Hoffman. In the photo, we are sitting on the summit of the mountain, which is around a 10-foot x 10-foot area, with a sharp dropoff of a thousand feet or more behind us (that's why we're hanging onto the ground so tightly). Aaron (left) had earlier had an "experience" with the cliff at the back of the mountain, in which he got a direct view of the thousand-food drop from closer than he would have liked! So he's hanging on extra-tight. Elevation somewhere around 10,850, and it was fairly cold. This was just one of the great experiences of a lifetime.
On the "it's just for fun" agenda, Aaron and I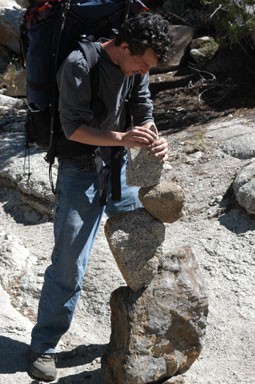 built some stacked-stone sculptures. A guy named Bill does these sculptures in San Francisco - as a street artist - and we had always wanted to try the technique. You stack stones, without the benefit of glue or mortar, cantilevered out to the sides, on top of each other, until you have 3 or 4 of them in a tall structure. And the "best" sculptures are those where the stones are small-end-down-and-large-end-up. It takes a good sense of balance and a lot of patience. Here's Aaron creating a five-rock sculpture on the trail to May Lake.
You can see that we had a great time on this trip even though it didn't involve much hiking, distance or elevation. Next year we're looking forward to actually completing the Red Peak Pass trip!
Lots of other opinions on, and stories about, Mt. Hoffman itself in various seasons, can be found online - just Google "Mt. Hoffman Yosemite".